Download images from a website
---
Many websites include images attached to list items. An agent can capture, extract and save these images as displayed on the web page, using the Download image action.
To capture images from a web page:
In the Agent Builder
Enter URL.
Select the image.
Select Download Image.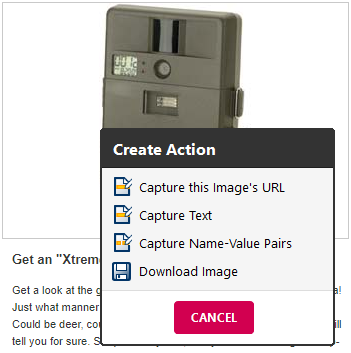 Enter a name for the field.
Note
This step records the URL of the image in the capture results, but will also download the image.
Select SAVE.
The images will be available in a compressed (.zip) file through the Web Console, and the image URLs will be included as a column in the agent's collection.
Was This Article Helpful?
---