Some websites won't load content on a page until the user has scrolled to the bottom. The steps below teach you how to edit a list action to scroll down to load more items, pause, capture additional items, and repeat until the full list is captured.
This tutorial requires that you already have an Item List. Click here to learn how.
Create a scrolling page list
Click Begin item list.
Click Add page list.
Select The new List Pager will use a scroll bar.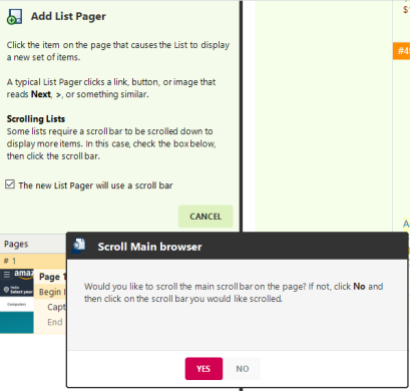 Click Yes if the scroll bar used to show additional items navigates the main page. Click No if the scroll bar appears in a window within the page.
Test the agent by clicking Test Agent > Start.
Set the scrolling Page List action to Wait for AJAX.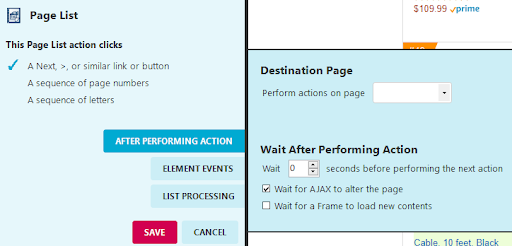 Scroll Item Action
The Scroll Item action can be used instead of Scrolling Page List to either load all items before capture or scroll to a certain point on the page before performing an action.
Click Scroll Item in the action list.

If the scroll bar used to show additional items navigates the main page, click YES. If it is for a window within the page rather than the main page, click NO.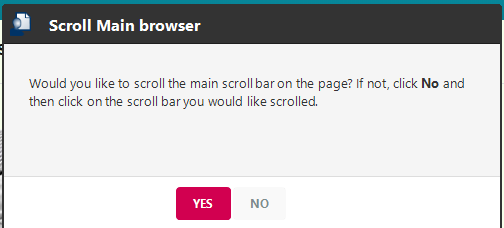 Place the scroll item on your current page. Most of the time, a Scroll Item action will go before an Item List.
Once you've created your Scroll Item action, your agent will scroll through an entire page before performing any other action.
You may notice the Scroll Item added to your action list will say "300px." This indicates that the action will scroll 300 pixels at a time. The scroll pixels can be changed in properties to adjust scroll speed.
As a rule of thumb, it's best to keep the number of pixels scrolled to a minimum to ensure that the page loads correctly as the action scrolls down. If your website fails to load more content into the builder after adding the scroll item, adjust the scroll speed.
Scrolling the page
Was this article helpful?
---