Publish data to Microsoft Azure Blob Storage
---
Mozenda makes it easy for you to publish and store your data in a Microsoft Azure Blob (Binary Large OBject) container.
Note
To publish to Microsoft Azure Blob Storage, you will need a Microsoft Azure account.
Publish to an MS Azure Blob Storage
Agent-level publishing
In the **Web Console
Select an agent or collection.
Open .
Select Publishing.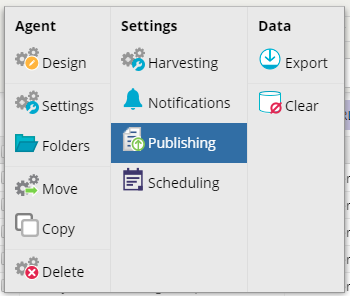 Select Azure Storage.
Choose an option under What to include in the file.
Choose an option under View.
Choose the File format you want to publish to Dropbox.

Your choices are CSV, TSV, XML, XLSX, or JSON.

Choose when you want the data to be published.

You can publish the data (a) after every time the agent runs, (b) on an independent schedule, or (c) manually.

Enter the information to connect to your Microsoft Azure account and Blob container.
Make sure to type out the information exactly as it appears in the Azure console.
Click TEST AZURE STORAGE SETTINGS to test the connection.
Select SAVE & PUBLISH NOW to publish the data immediately.
Or,
Select SAVE to publish later.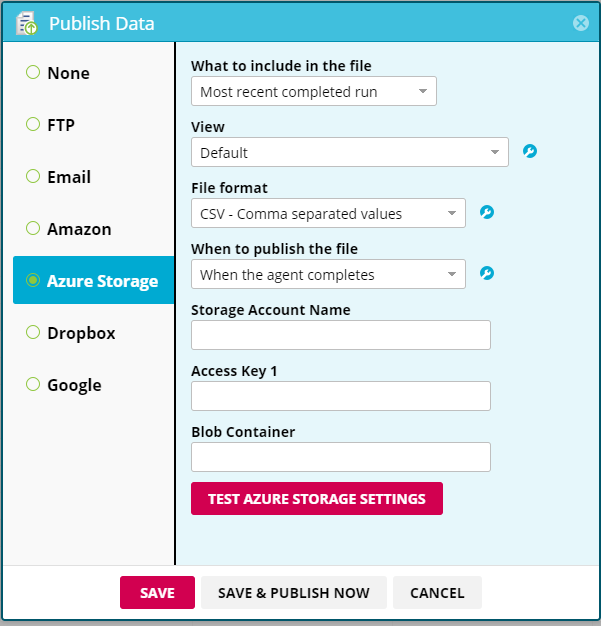 Was this article helpful?
---