Publish data to an Email Address
27 Jul 2021

1 Minute to read

Contributors
Publish data to an Email Address
Updated on 27 Jul 2021

1 Minute to read

Contributors
---
You can publish data harvested by your agent(s) delivered to an email address as an attached file.
To publish your data via email:
In the Web Console:
Select an agent or collection.
Select .
Select Publishing.

Select Email under Publishing method.
Choose an option under File includes.
Choose an option under Managed view.
Choose the File format you want to publish to Dropbox.

Your choices are CSV, TSV, XML, XLSX, or JSON.

Choose when you want the data to be published.

You can publish the data (a) when the agent completes, (b) manually, or (c) on a schedule.

Enter the Email address where you want the data sent. To use multiple emails, separate each email with a comma.
Note
The file will not be sent if it is over 2 MB in size. For larger files the FTP Publishing option should be used.
Select tool on the right, next to the email address.
Set the email subject line in the window that displays, and select UPDATE.
Select SAVE & PUBLISH NOW to publish the data immediately or select SAVE to publish later.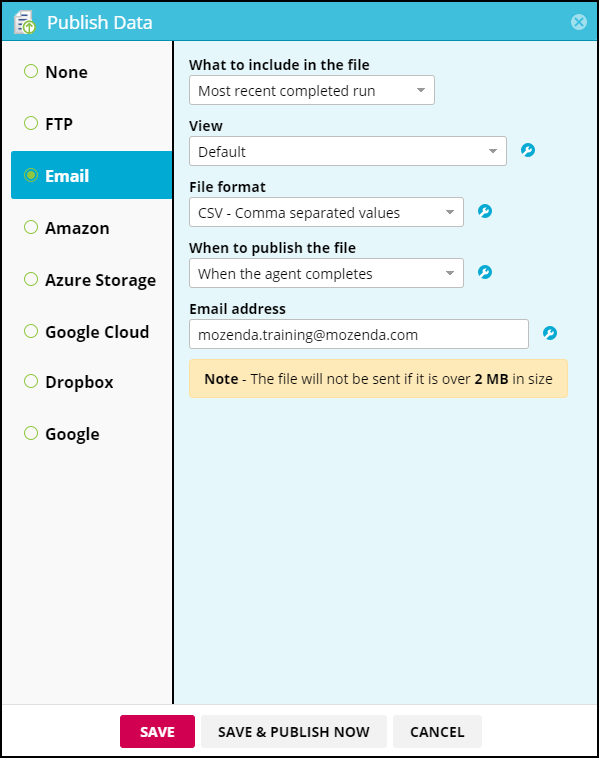 ---
Was this article helpful?
---
What's Next