Manage proxies
24 May 2021

1 Minute to read

Contributors
Manage proxies
Updated on 24 May 2021

1 Minute to read

Contributors
---
Share feedback
Thanks for sharing your feedback!
When you use Premium Harvesting, you can select the geolocation (or geographic location) a custom proxy for your agents or agent run jobs. This allows your agent to pull from a pool of region specific IP addresses to get your data faster with less detection.
Use proxies to:
Work with high volume sites
Avoid CAPTCHA and script detection
Access company intranets
Available proxies
There are two types of proxies available in your account, Standard geolocation proxies and custom proxies. When you select premium harvesting, traffic is routed through the selected proxy pool rotating the IP address frequently, instead of using your device's IP address, to avoid detection.
Geolocation
Geolocation proxies route your agent's traffic through another part of the world so you can access region-specific information. (For example, some sites show different information depending on whether the IP address originates from the US, Europe, or Asia.)
Custom proxies
If standard geolocation doesn't meet your project requirements, you can connect your account to proxies from a third-party provider via custom proxies. Configure your proxy using your preferred provider, then complete this form to add it to your account.
Select a proxy
In the Agent Builder:
Select Use Geolocation.
Select the region-specific pool of IP's you would like to use.
Select USE GEOLCATION.

In the Web Console:
Select Agents > All Agents.
Select the name of the agent you want to manage.
Select
Select Harvesting.
Under Method > select Premium harvesting.
Under Run this agent in > select the geolocation.
Select SAVE.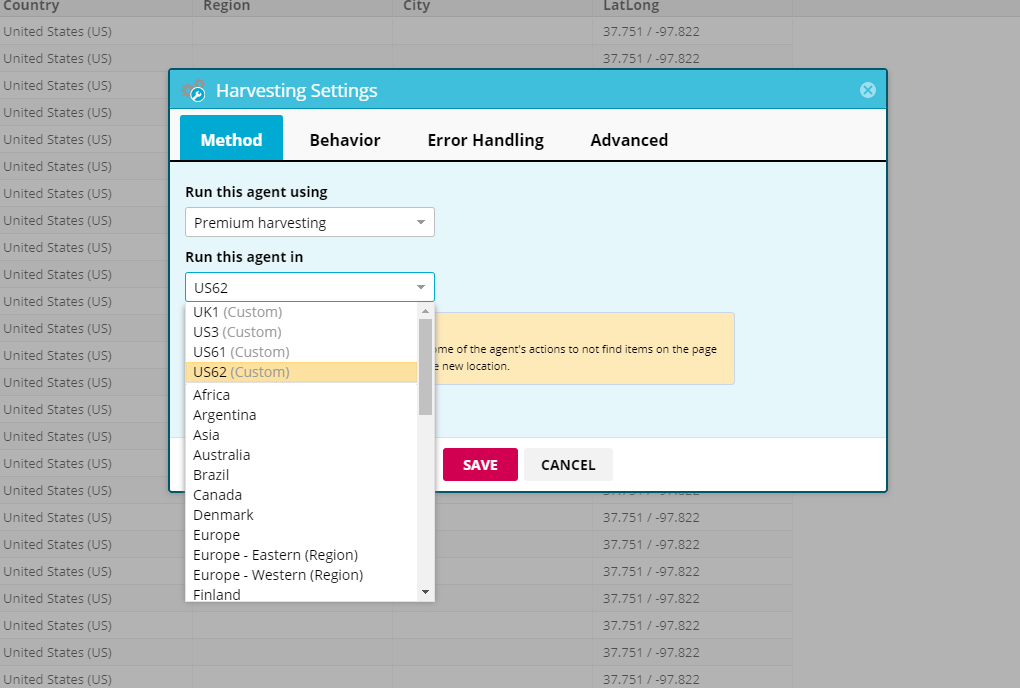 ---
Was this article helpful?
---
What's Next