When you build an agent using Page-level capture actions, you can save the properties and metadata associated with a web page you are gathering data from. This is helpful when you want to capture the URL of the page you are currently on or when you want the full HTML code of a webpage.
Open the agent builder, then start a new or open an existing agent.
Right-click the page header in the action list. This is the bolded text above the agent's action list. Do not click any action, but the page title itself.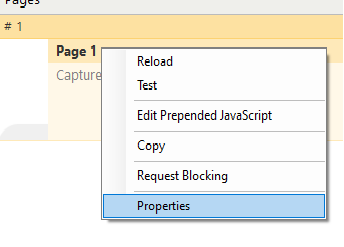 Select Properties > PAGE LEVEL CAPTURE ACTIONS.
Specify the information you want to capture.
| Item | Description |
| --- | --- |
| Page URL | The URL of the current web page. |
| Page title | The name of the page, which appears in search engine results and tab names in your web browser. |
| Page HTML | The full HTML code of the web page. |
| Meta description | An HTML element containing a summary of the web page, used in SEO. |
| Meta keywords | An HTML element containing keywords that specify the topic of the web page, used in SEO. |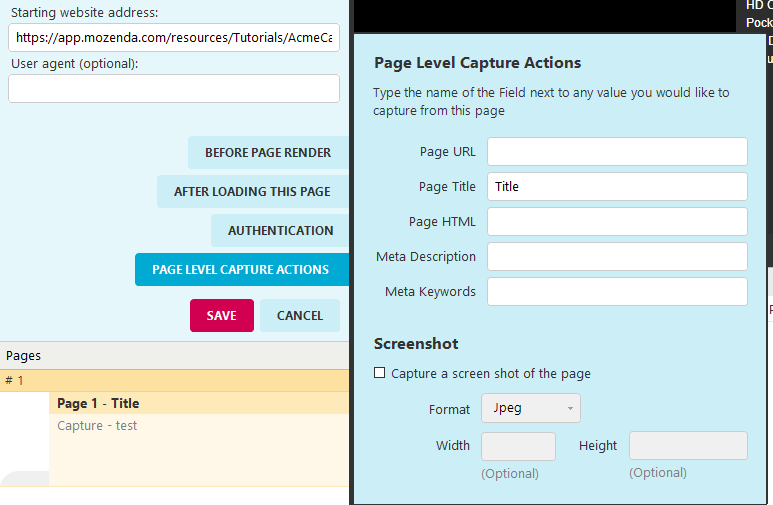 Click SAVE.
The field name that you provided and the page level action will be included in your data set.

Was this article helpful?
---